School of Chemical Engineering
School of Chemical Engineering
Introduction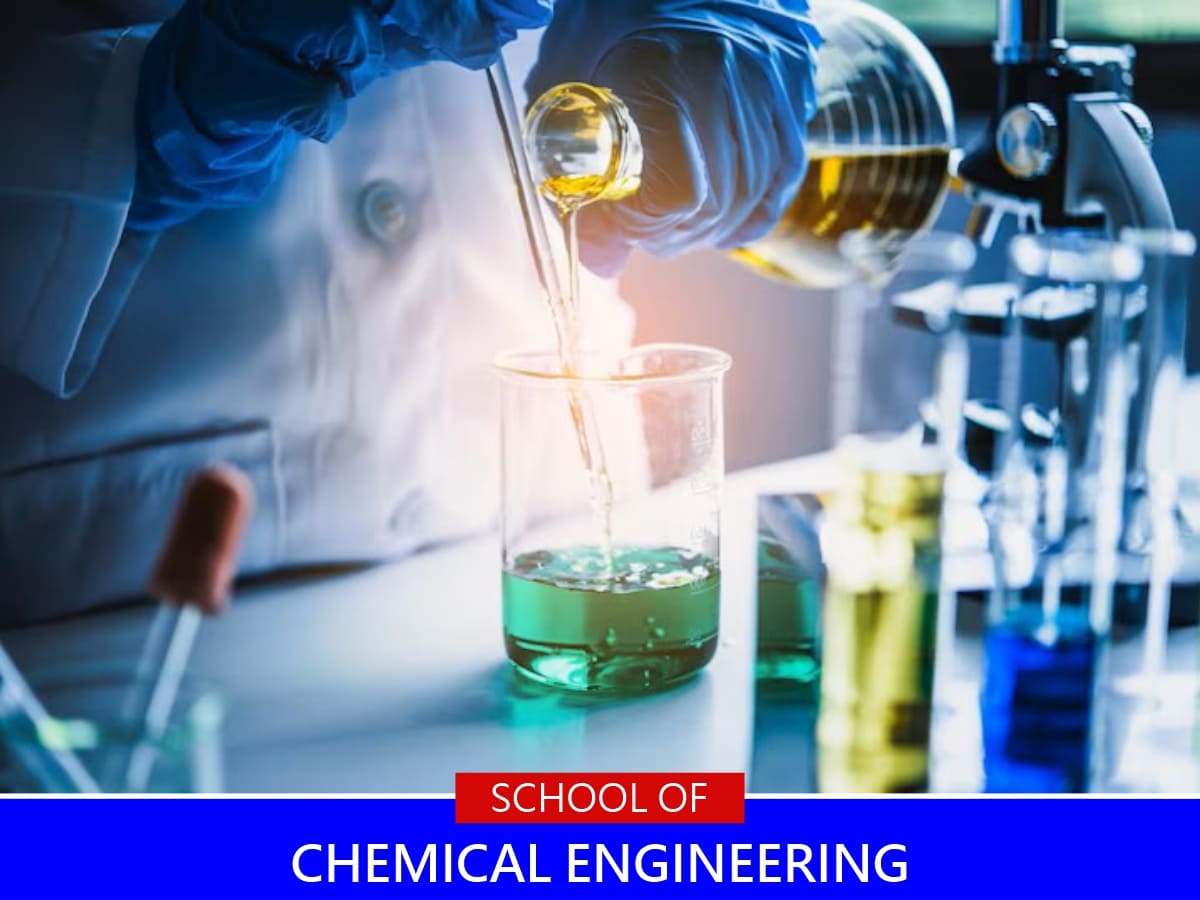 HOD:
Engr. Dr. Aurangzeb Akram
University's Vision
The university aspires for the leadership role in pursuit of excellence in engineering, sciences and technology.

University's Mission Statement
The University is to provide excellent teaching and research environment to produce graduates who distinguish themselves by their professional competence, research, entrepreneurship, humanistic outlook, ethical rectitude, pragmatic approach to problem solving, managerial skills and ability to respond to the challenge of socio economic development to serve as the vanguard of techno-industrial transformation of the society.

Faculty of Engineering (FE) Mission Statement
The faculty strives to train and educate students in the fields of Engineering for their future role to contribute in academia, research, business and industry.

Department of Chemical Engineering (DChE) Mission Statement
The mission of the Department of Chemical Engineering is to develop and disseminate the understanding of designing and operations of chemical processes so that our graduates can excel in academia, research, business and industry.

Department Introduction
Department of Chemical Engineering is producing outstanding Chemical Engineers, with great moral values, who will become a contributor in a prosperous and technologically advanced Pakistan.
The well-equipped labs ensure that the students receive the highest level of practical training in their chosen engineering field. The unique training of the chemical engineer becomes essential. We have maintained most modern library and advanced laboratories in the Department of Chemical Engineering.
The mission of the Department of Chemical Engineering is to train and educate students in the fields of Chemical Engineering for their future role to contribute in academia, research, business and industry and also to develop and disseminate the understanding of design and operations of chemical processes so that our graduates can excel in academia, research business and industry.

Programme Educational Objectives (PEOs) are extensive statements that define what graduates are likely to achieve after 3-5 years of graduation. The PEOs as mentioned below are approved by all stakeholders.
PEO 1: Success in Chemical Engineering Areas
Students will be able to attain a solid foundation in different areas of Chemical Engineering and an understanding of applications of Chemical Engineering to other diverse fields and will hold a senior position in different national and international organizations.
PEO 2: Excel in professional ethics, teamwork and leadership qualities
Students will be able to exhibit qualities like professional attitude, leadership, teamwork and effective communication/management skills complementing the technical competence to achieve success in multi-disciplinary and diverse fields
PEO 3: Innovation Ability and Contribution to Society
Students will demonstrate an ability to adapt to a rapidly changing environment by having learned and applied new skills, new tools and new technologies due to the advances in technologies/concepts and will contribute effectively to the needs of the society by innovative solutions
PEO 4: Continued Professional Development
Students will attain a sense of self-evaluation, self- accountability with integrity and an enthusiasm to continue life-long technical and professional development for continuous improvement
There is a set of twelve Programme Learning Objectives (PLOs) of Chemical Engineering Programme, which describe what students are expected to know/perform/attain by the time they graduate from Department of Chemical Engineering. The programme learning outcomes (PLOs) are given below.
1.0.1 Engineering Knowledge:
Ability to apply knowledge of mathematics, science, engineering fundamentals and engineering specialization to the solution of complex engineering problems.
2.0. Problem Analysis:
Ability to identify, formulate, research literature, and analyse complex engineering problems reaching substantiated conclusions using first principles of mathematics, natural sciences and engineering sciences.
3.0. Design/Development of Solutions:
Ability to design solutions for complex engineering problems and design systems, components or processes that meet specified needs with appropriate consideration for public health and safety, cultural, societal, and environmental considerations.
4.0. Investigation:
Ability to investigate complex engineering problems in a methodical way including literature survey, design and conduct of experiments, analysis and interpretation of experimental data, and synthesis of information to derive valid conclusions.
5.0. Modern Tool Usage:
Ability to create, select and apply appropriate techniques, resources, and modern engineering and IT tools, including prediction and modelling, to complex engineering activities, with an understanding of the limitations.
6.0. The Engineer and Society:
An ability to apply reasoning informed by contextual knowledge to assess societal, health, safety, legal and cultural issues and the consequent responsibilities relevant to professional engineering practice and solution to complex engineering problems.
7.0. Environment and Sustainability:
An ability to understand the impact of professional engineering solutions in societal and environmental contexts and demonstrate knowledge of and need for sustainable development.
8.0. Ethics:
Ability to apply ethical principles and commit to professional ethics and responsibilities and norms of engineering practice.
9.0. Individual and Team Work:
Ability to work effectively, as an individual or in a team, on multifaceted and /or multidisciplinary settings.
10.0. Communication:
Ability to communicate effectively, orally as well as in writing, on com-plea engineering activities with the engineering community and with society at large, such as being able to comprehend and write effective reports and design documentation, make effective presentations, and give and receive clear instructions.
11.0. Project Management:
Ability to demonstrate management skills and apply engineering principles to one's own work, as a member and/or leader in a team, to manage projects in a multidisciplinary environment.
12.0. Lifelong Learning:
Ability to recognize importance of, and pursue lifelong learning in the broader context of innovation and technological developments.


Scope of the field
Originally, chemical engineering was something about the industrial-scale production of chemicals, but now, the field has come a long way, having used in various fields of knowledge and industries. Chemical Engineering is indeed a very broad field and the branch of study has its applications in diverse sectors, such as textile, plastics, food, petroleum, pharmaceuticals, and more. With many of these manufacturing and service sectors hiring chemical engineers, there opens huge scope for the degree in terms of recruitment and chemical engineering is becoming one of the brightest career options for graduates for its job opportunities within the country and across the globe.
Currently, the Pakistani industrial sector is on its way of expansion, creating more and more opportunities for chemical engineering students in areas of production, designing, research, and development. The recent trend shows that the industry is expected to evolve and grow phenomenally in the years to come.
Facilities available in the department
Department of Chemical Engineering has following state of the art laboratories:-
Simultaneous Heat & Mass Transfer Lab
Computer Lab
Fuel And Combustion Lab
Engineering Drawing lab
Engineering Workshop
Inorganic & Organic Chemistry Lab
Mass transfer Lab
Heat Transfer Lab
Fluid Mechanics Lab
Particulate Technology Lab
Instrumentation and Process Control Lab
Chemical Reaction Engineering Lab
Engineering Thermodynamics Lab
Departmental Library
Career Path:
The duties and responsibilities of a Chemical Engineer generally include:
Designing and inventing new chemical processes/products.
Construction, installation, and supervision of manufacturing plants and equipment.
Planning and operating industrial plant facilities.
Development of advanced and improved manufacturing processes.
Creating modernized and high-quality chemical materials for industrial production.
Processing of food and agricultural products, cosmetics, and mineral based industries.
Providing safety measures for chemical industry work conditions.
Creating environment-friendly health and safety standards.
Research and development activities in the Technology firms.
Programs Offered