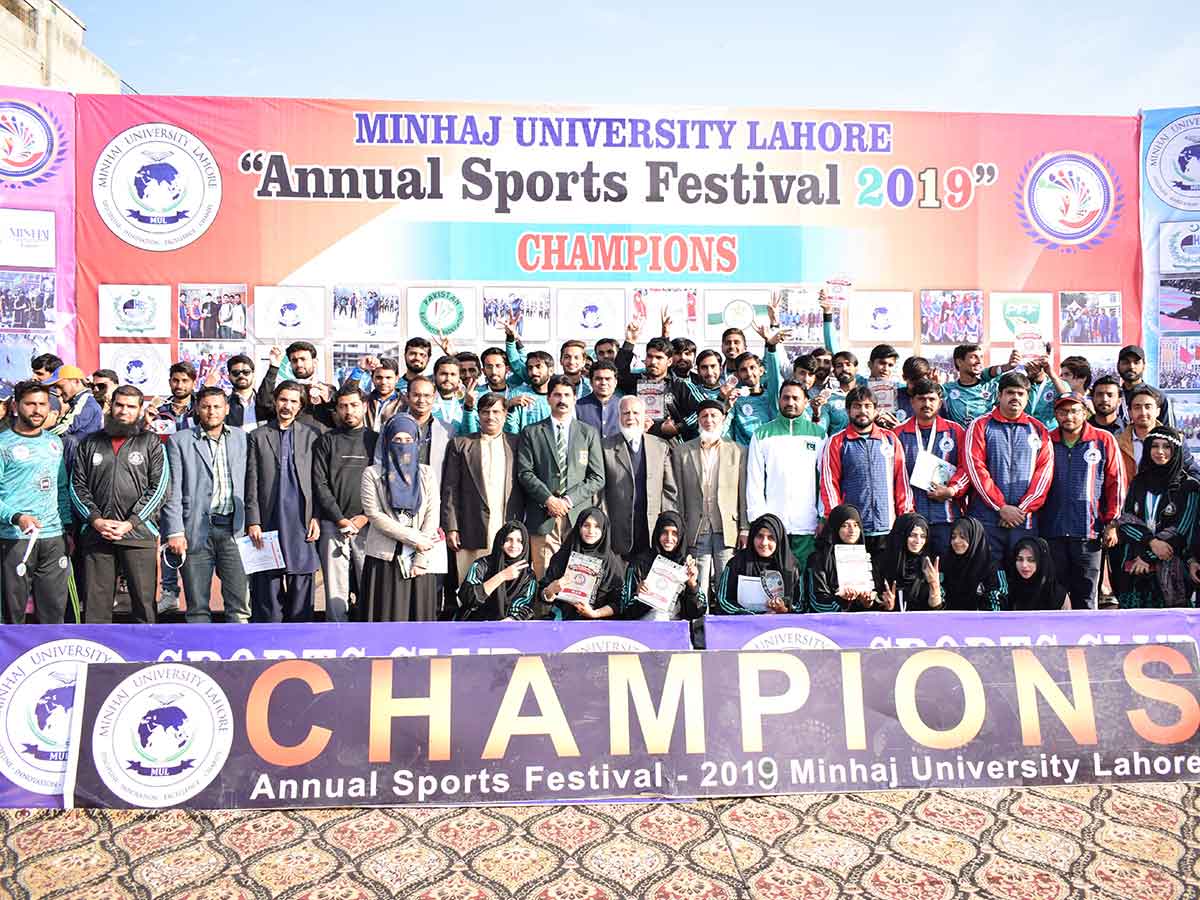 Sports festival of Minhaj University Lahore commenced on 14th January 2019 ended with splendid glory on 29th January where almost 1700 students participated in various sports and showed remarkable skill of their physical and mental suppleness and agility.
Dr. Hussian Mohi-ud-Din Qadri, Deputy Chairman –BOG at this occasion in his address said, "Minhaj university is the only university which is unique in providing equal opportunities to females to participate in sports. Basically, human beings are composed of three elements: physical, which relates to our physical abilities. The second one is mental awareness. The third one is related to spituality. The diet of these three elements is separate from each other. Leading life with one of these factors is not possible. Physical needs are fulfilled by food. Books are key to mental awareness. Spituality is dependent upon code of ethics and which is to serve humanity .it is matter of irony, that we only concentrate on physical fitness ;but as per great poet Allama Iqbal 'those who groom these three in harmony and they attain ultimate success"
The Deputy Chairman stressed that one should come in this world like an ordinary man; live like an ordinary man and die like an ordinary man. To attain this symmetry of life one needs to harmonize these three elements of life. Fortunately, Minhaj University holds privilege to cater these three elements of human beings and dispense education accordingly. Where as in other universities, only degrees are offered; but lack ethical training. Here at Minhaj university Lahore as per vision of Shaykh-ul-Islam Prof. Dr. M. Tahir ul Qadri, Chairman Minhaj University students are provided education with complete code of life to lead. This fact is pride of Minhaj University Lahore.
The Minister of Higher Education of Pakistan, Raja Yasir Humayun Sarfraz said 'a sport is part & parcel of education. In upcoming month, the government is planning for interuniversity level sports competitions under the supervision of Punjab Government. It is prime goal of our government to promote at all cost the sports in Pakistan. It is matter of immense delight that Minhaj University is playing supreme role in paving the pace of sports in Pakistan.'
The former International famed ICC cricket empire Aleem Dar stated, 'the soft image of Pakistan is attached with promotions of games. If we want to save the young generation from the epidemic of dugs and extremism then we have to give top priority to make sports the top notch responsibility to flourish it all levels.'
DG sports Punjab, Nadeem Sarwar expressed his astonishment for Minhaj university Lahore to organize such a mega event of sports. He said, 'we should be thankful to Almighty for being living in independent Pakistan. It is our moral duty to do something for this great nation. We must train our upcoming generation to manage time. We have to strive hard to bring them in sports ground. It is supreme goal of Punjab Sports Board."
The Pakistan test cricketer, Abbas Mughal said, "I am elated to witness that Minhajians are taking vital part in sports activities. You are masons of nation. I also belong to down trodden area where there were no major facilities of sports. I side by side studies did various jobs ;but sports was my passion and to play for this nation ;since ,I love Pakistan.my message to you is work hard in life and Minhaj University has given you golden opportunity to achieve it.''
M PA. Mr. Nazir Choan appreciated the organizers of the events to conduct such a splendid festival. ''God willingly. Minhaj university due to its committed and dedicated sports activities would give the best lot of sports men to Pakistan. These sports man would definitely be super stars of Pakistan. It is matter of sheer pride that our Honorable captain, the Prime Minister of Pakistan, Mr. Imran khan is out rightly promoting youth of the nation. Muliti dimensional steps have been taken in this respect to make the youth of the country stronger and stronger.''
The former Motor way IG, Mr. Zafar Abbass stated, 'It is pleasure to notice that Minhaj University is actively engaged to promote sports along with education. By feeling the enthusiasm of the sports participants here, it is self-speaking that youth of Minhaj university is talented.''
Director sports Minhaj University Lahore, Mr. Iqbal Murtaza expressed his thanks to all the participants and distinguished guests for their auspicious presence to grace the mega sports festival. He felt gratified to the esteemed cooperation of all departments and administration of MUL for successfully organizing the sports festival.
Dr. Muhammad Aslam Ghauri, (VC) and Dr. Muhammad Shahid Soroya (PVC) of MUL awarded gold medals to position holders