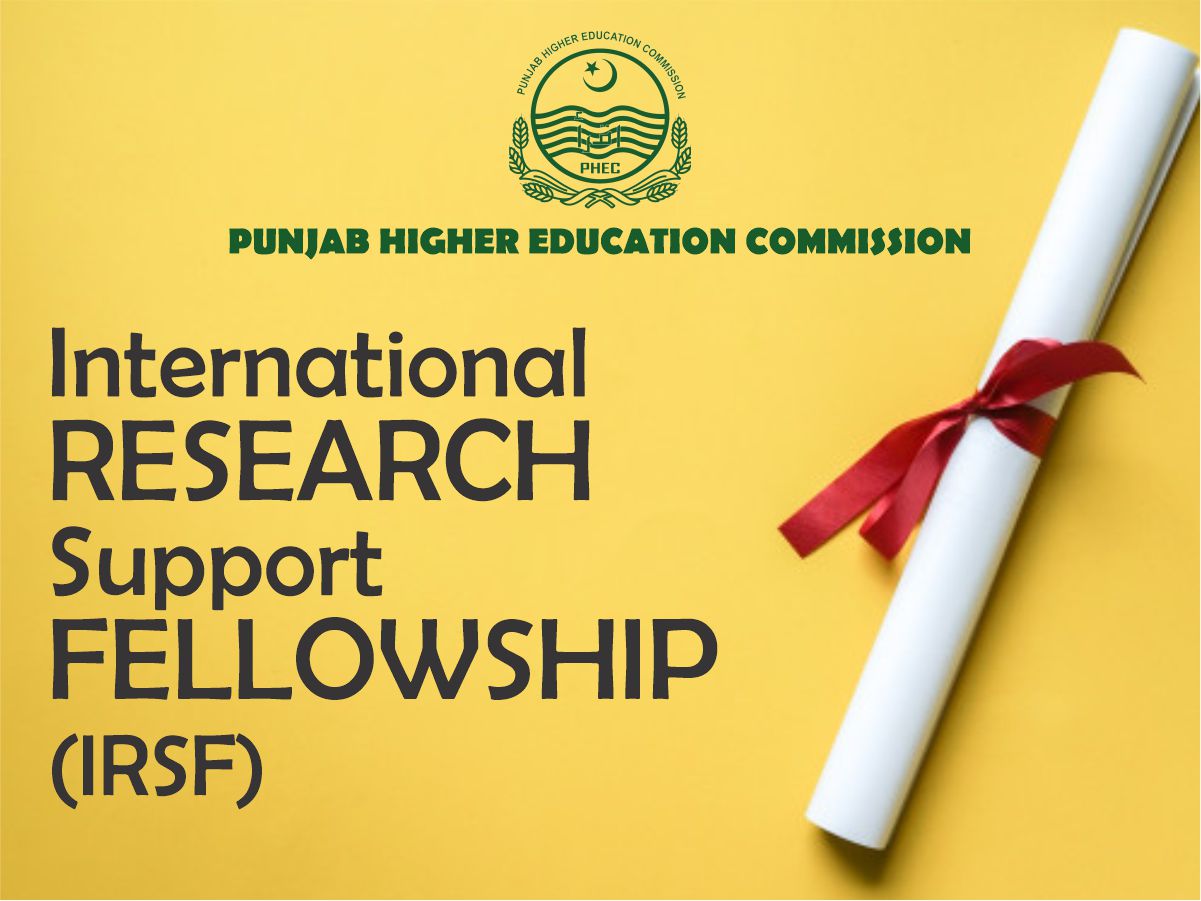 Introduction
The International Research Support Fellowship (IRSF) is a six-month program designed to provide a first-hand experience in research to highly motivated students who are presently pursuing a full-time PhD program in provincially chartered universities of Punjab.

Objectives
This program is launched to provide exposure to our local students in order to enhance their quality of research through engaging with international experts in their field of studies. It is meant to achieve the following objectives:
To enhance the quality of doctoral research in Pakistan
To increase doctoral students exposure to international research in relevant disciplines and bring along the best practices in research
To provide opportunities to doctoral students for training/ research work at advanced research facilities of top-ranked foreign universities
To expand research network of doctoral students with foreign universities and explore opportunities for future collaboration
To disseminate information about research in Pakistan
Elegibility Criteria
The eligible candidate must have:
Domicile from any district of Punjab
Maximum 45 years of age on closing date of application
Enrolled in a PhD program of any public/private sector university of Punjab and should have completed course work
Applied after 1.5 years of enrollment and maximum up to 3.5 years in PhD program
Passed the comprehensive examination (as per university norms)
PhD synopsis/research proposal approved by the Board of Advanced Studies and Research (BASR) or equivalent statutory body of the university
Valid acceptance letter from a foreign university/supervisor among QS top ranking 200 (General)H
How to Apply?
Eligible students may apply using the PHEC application form. Complete set of documents must include:
Duly filled application form complete in all respects. To download application form

(Click Here)
Foreign university acceptance letter(s), in order of preference
CV(s) of proposed foreign supervisor(s) (not more than 02 pages for each CV)
BASR approval showing approved PhD research topic & synopsis
PhD thesis synopsis (complete)
Local PhD supervisor recommendation letter on local university letter head endorsed by HOD and Dean of faculty
NOC and Study Leave from department/organization (if employed)
Copy of passport
Copy of domicile
Copies of academic documents including PhD comprehensive examination result, coursework transcript showing credit hours and grades obtained in each course
Foreign University Acceptance Letter for IRSF by Foreign Supervisor. (This form must be filled in and duly signed by Foreign Supervisor)
03 copies of the above application set must be submitted to PHEC. Each set has to be properly bound (ring/spiral/other). All annexures to the application sets are to be properly labelled (tagged). Applications which are not in proper binding and annexures according to the above list will not be entertained.
(Application complete in all respect must reach at Punjab Higher Education Commission, 10th Floor, Arfa Software Technology Park, 346-B, Ferozepur Road, Lahore on or before January 06, 2020 at 05:00PM through registered post. Application submitted by hand will not be accepted)